A pappardelle presentation slightly different -- not the usual heavy meat sauce version. Also very colorful!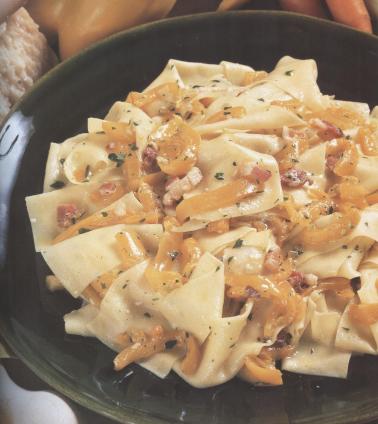 for the sauce:
two cloves garlic, peeled and chopped
one onion finely chopped
one stalk celery, finely chopped
one carrot, finely chopped
one-quarter cup extra virgin olive oil
one and one-quarter cups finely chopped pancetta
one pound yellow bell peepers, seeded and cut into thin strips
salt and freshly ground pepper
two tablespoons butter
one-half cup freshly grated parmesan
three tablespoons fresh parsley, chopped
for the pasta:
Over medium heat, add the oil and the garlic. Thirty seconds later add the onion, celery and carrot. Cook for five minutes. Add the pancetta and saute until almost crisp, for about five minutes. Add the bell peppers and continue to cook, covered, for about ten minutes, over low-medium heat, until soft. Add salt and freshly ground pepper, stir and set aside.
Get five quarts of water up to a boil. Add two tablespoons of salt. Add the pasta. Cook until al dente. Reserve one cup of liquid. Then drain well.
Re-heat the sauce if necessary; add the pappardelle to the sauce and stir. Add the parmesan and the extra tablespoon of butter. Stir thoroughly. (Add some of the reserved liquid if necessary to keep moist). Cover. Turn heat to high for one minute. Serve, adding the chopped parsley as garnish.