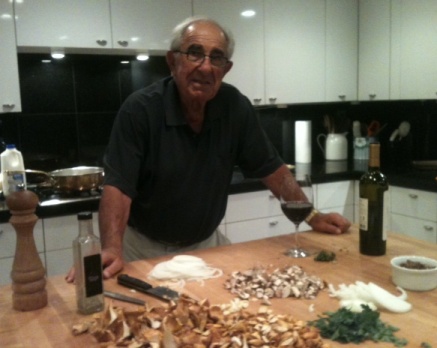 My friend Roy Moceri in Seattle, from the notable Moceri family of Sicily, loves to prepare and serve his polenta with mushrooms, a favorite any time but especially on those gray winter Seattle days. Here it is, from Roy:
The basic recipe:
three cups water
three cups whole milk
two cups of yellow cornmeal, preferably the imported Italian medium polenta grind
four tablespoons olive oil
two pounds Chanterelle mushrooms
four cloves garlic, peeled and diced
one cup fresh Italian parsley, chopped
one tablespoon salt
couple tablespoons of butter
one-half cup freshly grated parmesan (optional)
In a large, heavy pot, bring the water and the milk to a boil. Add the salt. Keep it at a boil. Pour the cornmeal into the water/milk in a thin, steady stream, through your fingers. All the time you are adding the cornmeal, continue to whisk. When all the cornmeal is in the pot, continue to stir with a wooden spoon for two minutes.
Cover for ten minutes and then stir for a minute. Repeat this 3-4 times, keeping the flame at a low to very moderate heat. Do not hesitate to add small amounts of milk and water and a spoon or two of butter to achieve a nice, soft, creamy polenta, which you should have when it pulls away easily from the sides of the pot.
We prefer Chanterelle mushrooms, but other varieties or combination of varieties will work. Take the two pounds, sliced, including stems. Sautee them in a large skillet, with the olive oil, over a medium heat, along with the chopped garlic and the parsley.
Pour over the hot polenta. Add some cheese if you wish (we don't). Serves four.